Shipping Information
PLEASE BE SURE TO CHECK THE SHIPPING INFORMATION YOU ENTER CAREFULLY AS GIFTS RETURNED TO ENCHANTED BOOKERY DUE TO INCORRECT SHIP-TO ADDRESS ARE SUBJECT TO A TRIPLE SHIPPING CHARGE WHICH WILL BE THE RESPONSIBILITY OF THE PURCHASER. THIS INCLUDES THE ORIGINAL SHIPPING CHARGE, THE RETURN SHIPPING CHARGE, AND THE RE-SHIPPING CHARGE. IN THIS CASE, WE WILL CONTACT THE PURCHASER WITH A LINK TO COVER THE EXTRA COSTS BEFORE RE-SHIPPING TO THE CORRECT ADDRESS.
Unless otherwise indicated, orders are shipped via UPS Ground (no signature required), within 1-3 business days after we receive them. The amount of time in transit is determined by the recipient's destination. Gifts shipped to the northeast typically require 1 business day in transit. Gifts shipped to the West Coast may take 5-7 business days. Please see UPS transit map below for more details.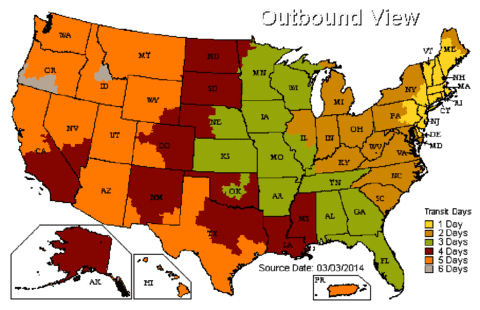 If you need your gift expedited, please call us at (888) 269-5947 and we can discuss the available options.